Austin may be known as the live music capital of the world, but it also holds its' own in the foodie blogsphere. From barbecue to a city-wide taco obsession, bloggers flock to ATX to check-out the newest, most interesting restaurants in the state. But how do they decide what restaurants are worthy of coverage and what foods to try when they visit? We sat down with Jane Ko, of A Taste of Koko, to find out and to learn the best ways to pitch foodies.
1. How did you get your start in food blogging?
I started food blogging my senior year at the University of Texas in Austin when I was finishing up my degree in Nutrition. I realized I wanted to do nothing with my Nutrition degree or become a dietitian. I was reading a couple of national blogs at that time and was inspired by these women that had created a brand and voice for themselves.
2. Describe some of the initial challenges you faced when your blog started to take off.
Creating content is hard and expensive. Creating a brand is hard and expensive. As a college student at the time, I didn't have the budget to hire a photographer or a website designer to build my website so I learned everything on my own.
3. What is one thing PR professionals should avoid when trying to pitch you an idea? What are the best things they can do?
In the blogging circle, there's nothing we hate more than an annoying publicist that has emailed more than 4 - 5 times asking for coverage. I wish PR professionals would stop trying to tell us how to write our content and force their clients down our throats. We get it. You want the coverage.
The best practices publicists can do is tell us about your client and why they're awesome. Try to tailor your pitch to my media outlet. A Taste of Koko doesn't feature national chains and focuses on local restaurants. You can pitch all day about Taco Bell and I don't care. Even if I come in for a media tasting for a local restaurant doesn't mean I'm going to write about it the very next day. Sometimes I don't feature restaurants until 3 or 6 months later when I am working on a city guide that I can include them in.
In regards to sampling, I use to accept samples all the time and before I knew it my guest bedroom turned into a grocery store with boxes of product I never opened. Now I only accept products that I know I like which is unfortunate because sometimes the products that I end up raving about are the ones that I've never tried. If you represent a product company and want to send samples, the worst thing you can say in your email is, "Can we send you some samples in exchange for a blog post and social shares on all of your channels?" Tell us about your client, ask if you can send samples, and if I like it, I'll share. But asking for a blog post with social shares in exchange for product is a definite no and complete missed opportunity for your client.
4. What do you look for when deciding to accept a collaboration proposal?
If it's a brand that I'm already using and is incorporated into my lifestyle. If I'm not familiar with the brand or has never used it, I'll do my research and see if it is something that I would use and be able to present to my audience in a way that makes sense.
5. What has been your most interesting partnership to work with? Any new projects you're excited to share?
Most interesting and exciting has been the partnership with The New York Times when they asked me to be the face of a campaign for Miami Tourism. You can see the video here. New projects are in the works!
6. Since the inception of your blog, you've expanded from just food to travel, and lifestyle as well - what was your inspiration behind the expansion?
I bought my house in 2013 and naturally started sharing a little here and there as a first time homebuyer. IKEA even used my home for a home makeover that was featured in O Magazine, InStyle Magazine, and OWN TV network. My readers started asking for more details inside my home. My first travel partner was Carnival Cruise Line. I never really traveled before then and wasn't sure if my readers cared about travel. Apparently, they do and since I've traveled to Colorado, Lake Tahoe, New Orleans, Rivieria Nayarit, Alaska, Key West, New York City, San Francisco, and US Virgin Islands to name a few. ☺
7. How do you see A Taste of Koko growing in the future?
I'm super excited to launch a brand new website with new branding soon! The new website will hopefully continue to serve as a go-to source for where to eat in Austin and guides to other cities. I launched my own texting service this year where people can text me at 512-400-3637 to ask for restaurant recommendations. I have a couple of other projects up my sleeve ;)
8. What restaurant in Austin should people have on their radar right now?
I'm currently obsessed with ATX Cocina (mostly their Con Tiki Con Todo), Ah Sing Den, Fresa's on South 1st is always my go-to, Native Hostel actually has a killer burger with the Mez-can martini, and Old Thousand (love their mapo eggplant).
9. How do you decide what restaurants you want to visit?
Newly opened restaurants are always a priority, and then editorial pieces that I'm working on. For example, when I was working my vegan guide to Austin in January I ate at 30 restaurants with vegan options in 2 weeks. Reader questions also give me ideas of what people are looking for. I desperately need to write a date night and birthday blog post!
10. Your Instagram is beautiful - Do you have any tips for how others can improve or grow their social media following?
Thank you! Invest in a quality camera. You don't need to buy a DSLR, an iPhone 7 works perfectly. I actually shoot a portion of my Instagram with my iPhone 7 and edit the photos with an app called Fotograf. I always recommend shooting in natural diffused lighting when possible and tell a story with the photo.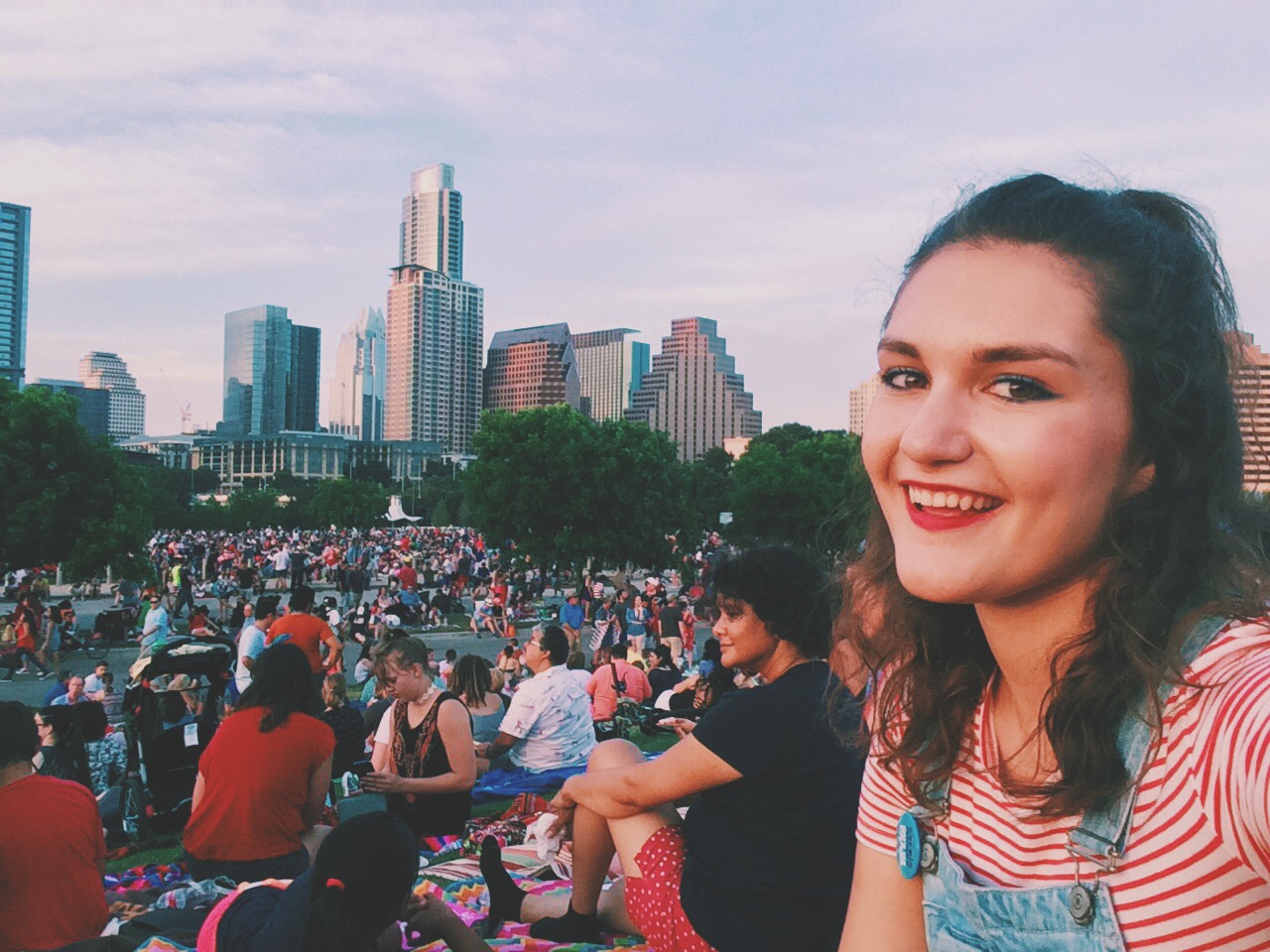 Hey there! My name is Anaïsa, I was born and raised in Austin but have been adventuring around Denton, Texas for the past four years. I'm currently a student at the University of North Texas where I'm studying Public Relations and French. My hobbies include traveling, photography, and going to music festivals (how can I not be an Austinite, right?). One day I hope to combine all of that into a career. Learn more about my experience here.